The Environmental Protection Agency has designated NTDS, Worldwide Logistics Group's domestic transportation subsidiary, as a partner in their initiative to improve sustainability. NTDS is now recognized as a SmartWay partner of the EPA. SmartWay is an EPA program that helps the freight transportation sector improve supply chain efficiency, reduce transportation-related emissions and environmental risks for companies and increases global energy security.
"After lengthy deliberation and lots of hard work, we are proud to be recognized by the EPA for our commitment to sustainability," said Peter Clifford, an executive at NTDS. "Taking a strong stance to safeguard the environment and being recognized for it by the EPA is an honor to all of us at NTDS and Worldwide Logistics Group."
SmartWay provides a comprehensive system to track, document and share information about fuel use and freight emissions across supply chains. In an effort to improve supply chain sustainability and lower transportation costs, companies can identify and select more efficient freight carriers, transport modes, equipment and operational strategies.
"The partnership with the EPA benefits all of us, including our customers," said Joe Monaghan, President and CEO of Worldwide Logistics Group. "As stakeholders of the environment, our customers can proudly inform their customers and vendors of the sustainable methods of transport used for the movement of their goods."
NTDS is posted on the EPA's website at https://www.epa.gov/smartway/smartway-partner-list as an active SmartWay Partner. Any company wishing to verify the partner status can do so by viewing the Partner List.
Nearly 4,000 companies participate with SmartWay. SmartWay helps them learn clean and efficient strategies to cut costs and emissions, identify green carriers and modes to fit shipping needs and provides a system to track and share environmental data.
Since its inception in 2004, SmartWay has helped partners avoid emitting 143 million metric tons of CO2, 2.7 million short tons of NOx, and 112,000 short tons of PM, which helps protect the environment and keeps Americans healthy.
"Our partnership is going to help make our country greener by reducing CO2 emissions and our overall carbon footprint," commented John Rapczak, General Manager of NTDS. "We are very cognizant of who we partner with, taking into consideration whether a vendor is also a SmartWay approved carrier before having them haul our customers cargo."
The SmartWay timeline shows the program's key milestones since its launch in 2002.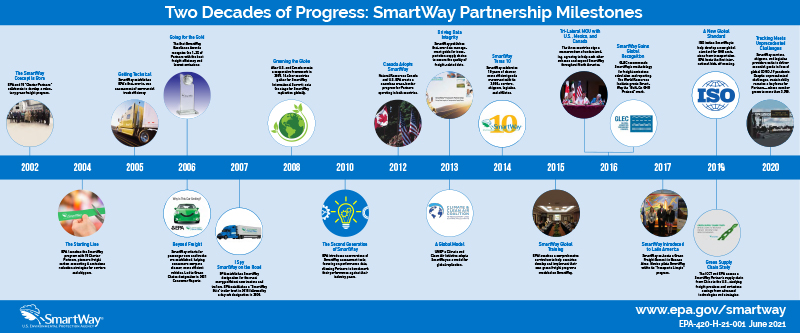 To learn more about SmartWay, click here or contact John Rapshak at NTDS.