3PL leader, Worldwide Logistics Group, has won China Airlines Million Dollar Sales Award in recognition of their outstanding contribution to US exports in 2020. This award is a milestone for Worldwide Logistics because of their perseverance during the Covid-19 pandemic.
"Standing out in a competitive supply chain market is important to Worldwide Logistics at any time, but today, with the volatile logistics industry during unprecedented times, it is even more humbling." said Joe Monaghan, Worldwide Logistics Group president and CEO. "Our mission is to create competitive solutions no matter what adversities we face."
Pictured in the photo from left to right are Alvin Chavez (Export Manager – Los Angeles), Peter Hoang (Director – Asia Trade Development), Gricelda Esquivias (General Manager –  Los Angeles), Jeff Hu (China Airline Sales Director Southwest District USA) and Fumi Hsiung (Sales Manager Southwest District USA).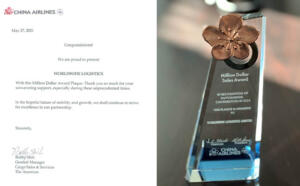 Customer Service at the Forefront
Worldwide Logistics provides supply chain solutions for more than 7,000 companies in more than 100 countries and has evolved as a global leader in transport and logistics since it was founded in 1998.
"We've been able to grow because of our commitment to customer service from a team of highly skilled logistics experts and because of our passion for what we do," continued Mr. Monaghan. "The recognition from China Airlines is a validation for our dedication."